Lo' Juimo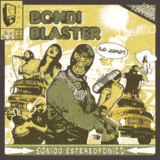 What are you waiting for? Bondi Blaster just released new music. Lo' Juimo came out yesterday. Today is today. Tomorrow will be tomorrow. OK?
Get the inside scoop on this tune and the video from
The Hard Data
.
I know Juan Data in the real world from crossing paths around town from time to time, but I really know Juan from his persona as the masked man behind the keyboard of The Hard Data blog. The Hard Data is a great source to discover new music, usually "Latin but cool". He also features classic vintage tunes on occasion when he finds some interesting 45s, which is always a treat. But his real passion seems to be in the modern evolving musical movements of the Latin diaspora. Especially cumbia. Juan once wrote on his blog that he often prefers listening to new cumbia because there is more he can relate to in the modern context of the lyrics as opposed to old songs about fishermen, a common theme in classic cumbias.
The beauty of The Hard Data is in the words. He is an actual journalist and not just a kid with a tumblr or blogger account. The blog focuses on unveiling new talent and sharing his view of new sounds through reviews and commentary. Juan Data not saturate and overcrowd his blog with all the videos, free downloads, bells and whistles that you get in many blogs like this blog you are reading right here. Juan's writing is filled with humor and sarcasm alongside very opinionated real talk. He has continued to feature cumbia heavily on his blog after most bandwagon blogs have left cumbia behind for the next new kuduroton fad. But it's not the same old cumbias, it is the ever developing modern cumbia movement with Afro Caribbean roots and forward marching sounds. And sometimes those sounds come from the man himself. His mixes have transcended boundaries to tell sonic stories of intergalactic urban luchadores who fight the big pop machine. I listened to one or two of Juan Data's early productions from a few years ago and I was very excited with the direction and aesthetics of the sound. However, the music was missing something and the tracks got lost in my digital collection,
racking up very few play counts. But like a comic book superhero, Don Data has kept grinding, and has delivered 100% on his most recent productions under the name Bondi Blaster on Stronghold Sound records. Maybe he sold his soul to the Devil at the crossroads? But unlike Robert Johnson's deal with the devil in Mississippi, Juan Data's crossroads is where hawkers from a flea market in Mexico City travel on a bus with fishermen from Baranquilla and street musicians from Bolivia on their way to a jamaican dancehall carrying large speakers and wearing masks. In reality, Juan Data took his ideas into the studio with the equipment and know how of Dub Snakkr and a few other collaborators to create the sounds of Bondi Blaster.
Juan Data shot some pretty raw footage from the SF Street Food Festival in the San Francisco Mission District. Only in SF can you get a sisig taco from a truck, a crème brûlée from a carpenter in a chef hat and get your freak on to a cumbia DJ in the middle of the street.
Soul Cocina recently caught up with Juan Data to find out what goes on behind the mask
Soul Cocina: I notice the
Salchichón Primavera video
was shot at the SF street food festival. What food do you remember sampling at the fest? Did you join in the street dancing that day?
Juan Data: I was actually there for the whole day. I was assigned by a newspaper to cover the event so I went there very early to meet and chat with many of the food cart people and I got to sample a lot of amazing food. I think the highlight of the day was the ice cream with caramelized worms from El Buguito. I didn't join the street dancing but as soon as I saw it happen, I pulled out my camera and I knew that'd make a great video for my song.
Soul Cocina: Do you have a signature dish you like to cook? (extra credit for recipe)
Juan Data: My beef empanadas are legendary. I can't share the recipe because it's a family secret, I'd either have to kill you or marry you if i told you.

Soul Cocina: Dang! add another soldier to the empanada wars of SF

SC: What are your favorite restaurants?
JD: I don't really have any, I prefer trying new things every time rather than going back to the same one.

SC: What is in your refrigerator right now?
JD: A lot of tomatoes, some beef, tilapia, chicken breasts, celery, onion and a couple of containers of frozen bean barley soup I made last week.

What do you miss most from Argentina?
The fact that you can go to any restaurant at midnight and it's packed, and after you're done eating they don't kick you away to clear the tables fast like they do here, you can stay and talk with your friends for as long as you want.

Are there any musicians, producers or DJs that are under the radar that we need to know about?
My full time job is trying not to let anybody worth knowing fly under the radar. Whenever I discover an artist that nobody else is talking about, I'm the first one to go online and share it with the world, either through my personal blog or my regular contributions to Remezcla.com

Have you ever worked in porn?
Yes. But shhhhh, don't tell anybody.

Where can we hear/ buy your music online?
Bondi Blaster's debut EP, ¡Lo Juimo! is available right now in pretty much every digital vendor that I know of, iTunes, amazon, Emusic, CDBaby, etc. You can also stream the whole EP for free on soundcloud.
Bondi Blaster - Lo Juimo!
Will your new music be released on vinyl?
I really want to. I mostly just play vinyl on my DJ sets, so not having my music on that format sucks because I can't play it at the parties. However, pressing vinyl is extremely expensive and unless we can guarantee some considerable amount of sales, I don't think the label will be doing such an investment.

Where can we find your written work besides The Hard Data?
I freelance write for many different publications, both in Spanish and English. I have many blogs, some of them are anonymous and I'd rather they remain that way, the rest you can find them easily, simply by googling my name.

I remember long ago I read on your website that you do not like to play cheesy merengue. Do you have any examples you can share with us of non cheesy merengue?
I don't. I don't really like merengue and I prefer not to include any of it in my DJ sets. But I'm also a mercenary and if people hire me to play a cheesy horrible music party and the pay is good, I'll play any crap they want. I don't give a fuck.


How do your roots inspire the music you create? How does SF inspire the music?
Your roots are always an influence, even if you don't recognize it. I always say that my musical roots, the music I grew up listening to are very contradictory and include '90s hip-hop, early punk rock, lots of Brazilian music, '80s synth-pop, and Argentine rock. Cumbia was always there, in the background, but I never paid any serious attention to it growing up, it was music for maids and busdrivers, not for private school boys like myself.
Moving to the US and in particular to San Francisco completely changed my paradigm because here I was part of the immigrant working class living in The Mission making minimum wage and all of a sudden I felt that cumbia represented me too and I found in cumbia a common language, a sort of musical lingua franca, that I could use to communicate with all other Latino immigrants from many different backgrounds.

You used to roll deep in the Hip Hop en Español scene. Are there any Mangaka tunes out there we can hear?
I was deeply involved in the South American hip-hop scene for many years but mostly as a journalist, event promoter and to a lesser extent beat producer. I always rapped, on the side, but never took it very seriously because I recognized, coming from a white middle class background I had absolutely no street-cred. I did release an EP as Mangaka in the year 2000, I posted it once on my blog and it's probably still posted on some other blogs. It's not stuff that I'm very proud of.

What was the first record you bought?
I didn't start buying vinyl records until I moved to the US in 2001. Back in Argentina I didn't have turntables and records where too expensive. I don't remember which one was the first, but probably some underground hip-hop, I think a 12 inch single by Afu-Ra.
I do remember the first cassette tape that I bought, when I was 10 years old, it was a cheesy compilation called FM USA, that had all the alleged current hits of top-40 radio in the US, which at that time meant Tears For Fears' "Shout" and other songs of that kind.

What's the last record you bought?
Danay Suarez, Habana Cultura Sessions produced by Gilles Peterson, 12 inch EP. Oh, and a bunch of Panamanian 45s.


We're sharing some sounds of 45s from Panama here, these are not the records Juan Data recently bought.

What first turned you on to cumbia? How has cumbia/ nucumbia changed since then?
I always thought cumbia was funny, but in a ridiculous, ironic way. Because of the low-brow kitsch factor. That's what cumbia is associated with in Argentina, and most of Latin America. It wasn't until I got really deep into the real Afro-Colombian cumbia that I started taking it a little more seriously and noticing the connections with all the other rhythms of the African diaspora.
I did some bedroom experiments with cumbia back in the '90s, but it was mostly as a joke and they never left my computer. I always kinda knew that cumbia was very compatible with hip-hop and that merging both styles would be a great idea, but I don't think anybody managed to do it right until Ozomatli came out with "La Cumbia de los Muertos." That was a game changer for me at least. The first time I listened to prestigious hip-hop DJs mixing cumbia into their sets, was with this particular track. That was in 1999. Since then it's been evolving more and more and taking over the whole Latin music spectrum.
The first time I did something with cumbia, in public, was in 2001 in Los Angeles. My roommate was the singer of a local rock-en-español band that sounded very much like Ozomatli and they too had a cumbia and they wanted to have somebody rapping a verse on it so they invited me to do so. We never recorded it, unfortunately, but we played it live many times. The first time was at The Roxy, in Hollyhood, opening for Bersuit, an Argentine band that's quite a pioneer when it comes to mixing cumbia with party rock. That was a memorable night because it was also my debut as a DJ, playing between sets.

Where can we hear you spin records?
Every first saturday at The Layover, in Oakland we have the Stronghold Sound night with myself and DJ Diet, and sometimes other guests.

What other projects are you involved with? What does the future hold for Juan Data? Bondi Blaster?
I'm currently working with Gabriel Navia on producing some new Bondi Blaster tracks. But it goes very slow. I don't know. I never make long term plans.

What artists do you dream of collaborating with (porn or musical lol)?
I don't dream of collaborating with any porn artist. I retired from that business over four years ago and I have no intentions of going back. Plus I'm married now and I don't think my wife would approve. Musically, I'm down to collaborate with pretty much anybody out there. I want to bring more African roots and Brazilian stuff into my music so I'm kinda looking into that direction now see who can I find and drag into the studio.

What kind of food goes best with your music?
I don't know. I never ate listening to my own music. I don't think it's the type of music I'd ever play while having dinner. Unless you're having a greasy bacon-wrapped hotdog in the corner of 19th and Mission, or something like that.

What are 3 things people don't know about Juan Data?
Most people didn't know about my porn background, but you already revealed that, many people didn't know that I'm married, but I already said that too. I guess the only thing left to say is that I don't know how to drive. I'm 35 years old and I've never driven a car. Bicycles rule.